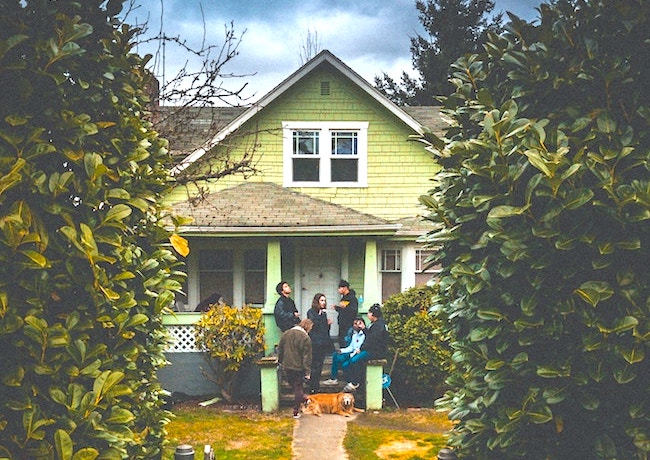 07 Nov

Will the New Generation of Homebuyers Make 2020 a Buyers Market?

Earlier this year, a report discovered that generation 'Millennial' was entering the new median home buying age of 34 – over 8.3 million of them in fact. An additional report, executed by TransUnion, showed there could be an additional million to enter that age through to year 2022.

Based on the analysis, TransUnion shows: "That figure is more than any three-year period in the last decade…"

Alongside an expanding U.S. economy, shrinking unemployment stats, and low mortgage rates, these new numbers brings a hopeful outlook to the real estate industry in all markets. The continued demands, lack of inventory, affordability issues due to high home prices have given delay to a moving market – even with the best mortgage rates seen in decades. With a surge of new potential buyers, the market will be forced to make shifts to meet the demands. Experts suggest 2020 is the year of a Buyers Market.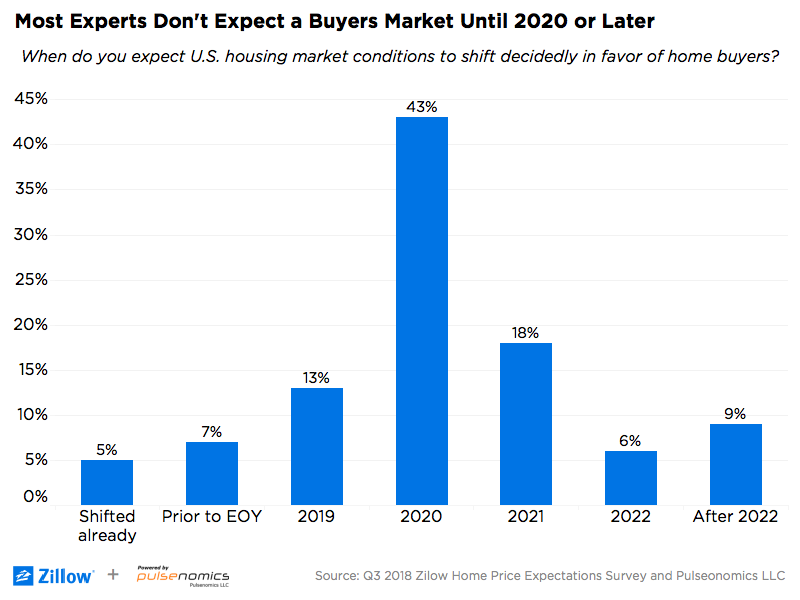 Millennials aren't the only ones preparing to buy. According to the Bank of America Home Buyer Insights Report, those between18 – 24 (Gen Z) have already started saving to buy a home. Fifty-nine percent of them say they plan to purchase a home within the next 5 years. They'd rather put their savings toward a down payment on a home versus a big trip, or a wedding. That means more than half of Gen Z could own a home before turning 30 years old. Another group of first-time buyers, almost a thousand people surveyed who have never owned before, say they are interested in buying within the next 3 years.
Experts have been looking into the younger generations' credit habits. Those eligible for credit among the Gen Z population had a 4.5 million increase just last year bringing it to a total whopping number of 31.5 million. The number of those who took out a mortgage increased 112 percent – more than double from the previous year. Additionally, the number of Gen Z consumers who will enter into the 'credit-eligible' age of 18, will add on another 13 million between now and 2023.
In the graph below, you can see how Gen Z consumers are affecting the credit market. Mortgages have been one of the largest increases for Gen Z and millennials compared to any other generational stat.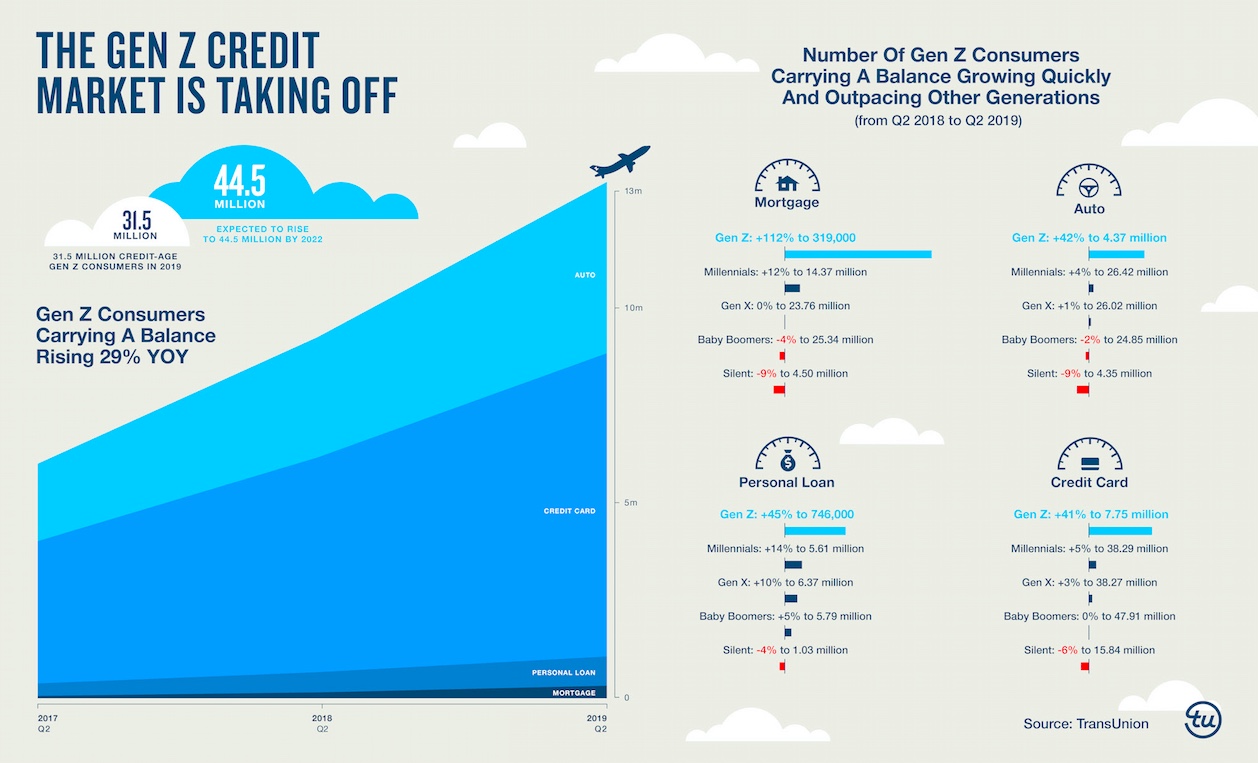 Why is Gen Z beating Millennials to the buying game? Millennials have been purchasing at a later age than previous generations due to outstanding financial burden. Things such as student loan debt, outstanding car payments, high rent, and less annual income have stopped people from buying and pushed the median age back.
Gen Z is less likely to have as big of burdens. The report also states that Gen Z is likely to choose colleges that will leave them with less student debt; almost two times the amount, at 34 percent compared to 15 percent for millennials. Zillow found that 27 percent of first-time buyers are going over their budget limit leaving them without any savings. And more than half surveyed, at 58 percent, are holding off on purchasing a home because they simply can't afford a 10-20% down payment; all the more reason why Gen Z has put great intent to saving more, earlier. Though both generations are willing to take risks or make big sacrifices (Gen Z 94% vs. Millennials 93%), Gen Z is more likely to enforce dramatic change, like getting a second job just to save. This also reflects what and where these buyers are purchasing.
It may look like the younger generation just doesn't want to buy. Some may still not be ready, but millennials and Gen Z still have the desire to buy a home and settle down. More millennials, who range from mid-twenties to late thirties, are moving to the suburbs – similar to their parents or grandparents. They just have different preferences and interests. Suburbs, especially around smaller cities, have become hotter markets. Builders and economists have taken notice.
Suburbs provide young professionals with the benefit of working with large businesses and corporations without the grueling commute. Companies started to expand out from major cities and remote positions have become a more efficient option. The luxury of only being minutes away from a thriving city, but not dealing with the high city-living costs and overcrowded population, has become more appealing. The option to walk to the local 'downtown' main street and enjoy neighborhood restaurants, bars, cafes, and local vendors is also a top priority.
But what about all this talk of recession in the year 2020? The economic factor is more likely to consider the world trade war and geopolitics rather than the housing market when it comes to a downturn. However, this could actually help new homebuyers. The U.S is close to setting a new record for the longest economic expansion period recorded. Some major markets are expected to cool. Home prices will continue to flatten or decrease, and builders are hoping to meet more demand from buyers. Rates are also expected to stay below that 4 percent range which could help with more affordability options for those looking to buy.
Keep a look at your local markets, and reach out if you'd like to stay updated. If 2020 is your year to buy, or if you're ready now, we'll make your goal a success story! Give us a call and let's talk about your options.
This article is intended to be accurate, but the information is not guaranteed. Please reach out to us directly if you have any specific real estate or mortgage questions or would like help from a local professional. The article was written by Sparkling Marketing, Inc. with information from resources like Housing Wire, and Realtor Magazine.