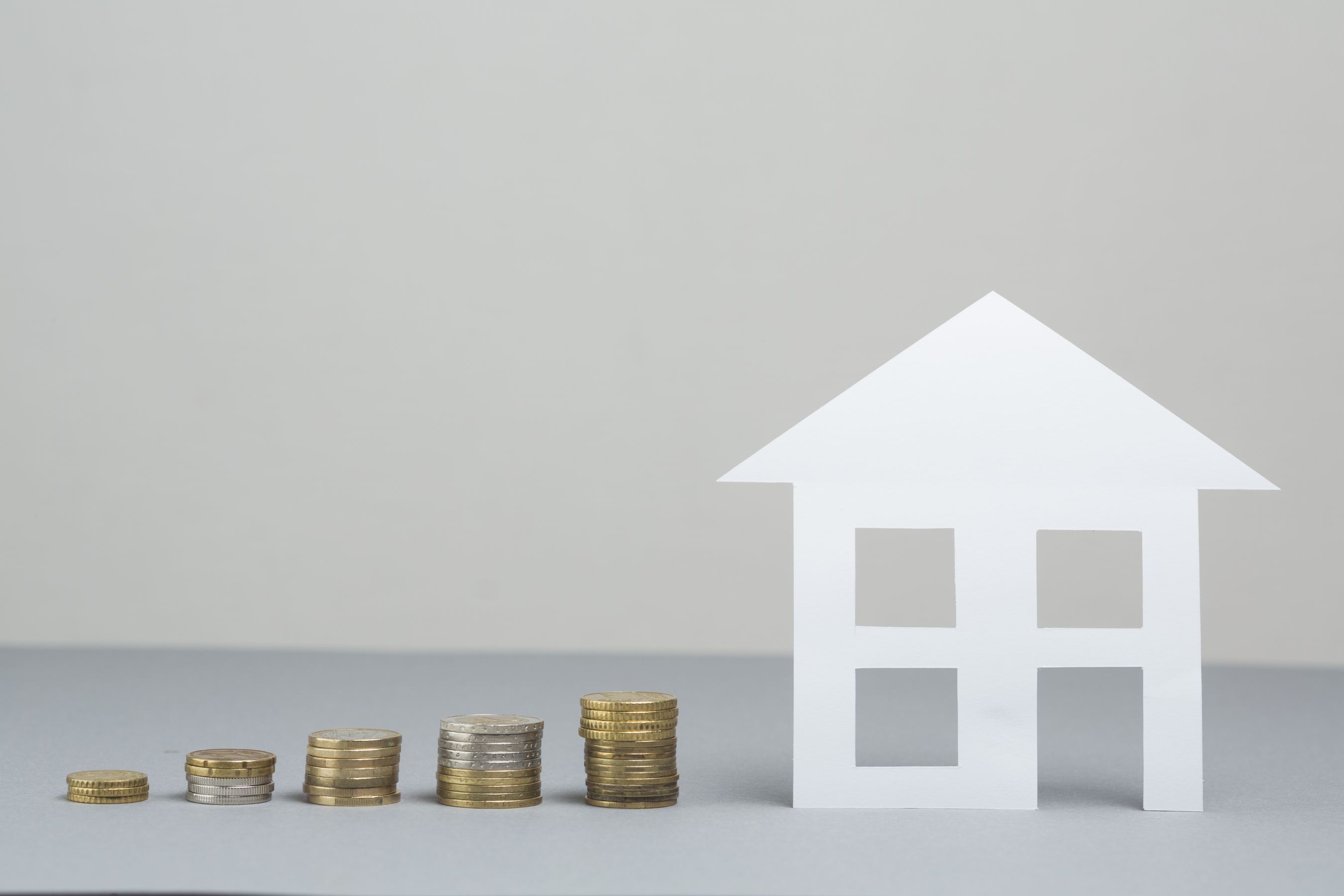 10 Sep

Is The Housing Market Going To Crash In 2020 Or Will It Continue To Rise?

It's one of the most common questions being asked. Will there be a housing market crash in 2020 or will it continue to rise?

There have been certain indications, such as, changes to the federal interest rate or trade disputes that would lead to a slowing economy. While these events were ever present and ongoing, they have yet to drastically shift the market.

Approaching the last quarter of 2019, there's a better view of how things may pan out. As of August, the U.S. crushed a record for the longest, uninterrupted economic expansion. This is predicted to end in 2020 but experts say the economy as a whole is still holding strong. The job market is in a solid place and unemployment stays low with a 3.6% average and only a 0.02% anticipated growth over the next two years. Additionally, the Fed currently doesn't see inflation as a threat and we don't expect to see the 2.25% fed funds rate increase in the foreseeable future.

So where does this put the housing market? History has proven the housing market to be a main cause for recession. This time around, the good news is that any downturn won't be due to the housing market.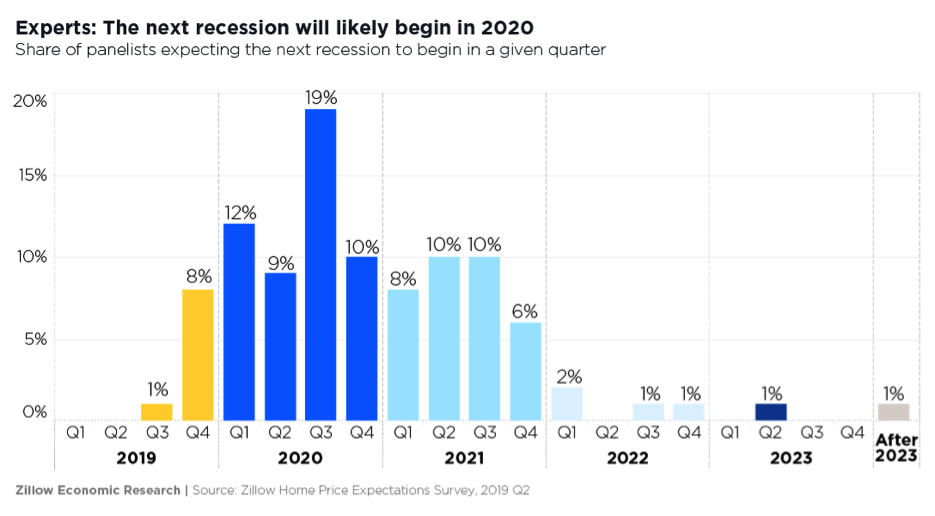 A poll review was curated with a panel of experts and the top 3 causes for any recession triggers are predicted to be by Monetary, Trade Policy, and or Stock Market Correction. The Housing Market is listed 9th on the list.
Real Estate Market Sees Transition
The market as a whole may slow, with home values going from 4.1 percent to 2.8 percent by 2022, but markets all over the country have been on their way to a more 'corrective' or balanced state. In California, many real estate markets have 'cooled' significantly. Price reductions have become more common, homes are staying on the market longer and there are less bidding wars. Prices in popular areas like San Diego and Los Angeles saw a 1.8 to 2 percent rise, making homes over-priced and out of reach. Sales in both markets have slowed and now have begun their cooling phase, with predictions of only a 0.5 percent gain this next year.
Home sales saw a drop in June this year falling below the 400,000-benchmark level but it is not as bad as suspected in downturn. Over the last few years, home prices were quick to rise and now in some markets, they have hit a plateau. Zillow reported that the "statewide median home value rose by just 1.3 percent over the past year or so. That is significantly less than the 5 to 6 percent gains of a few years ago." They see it falling to -0.1 percent within the year.
(U.S. Prices)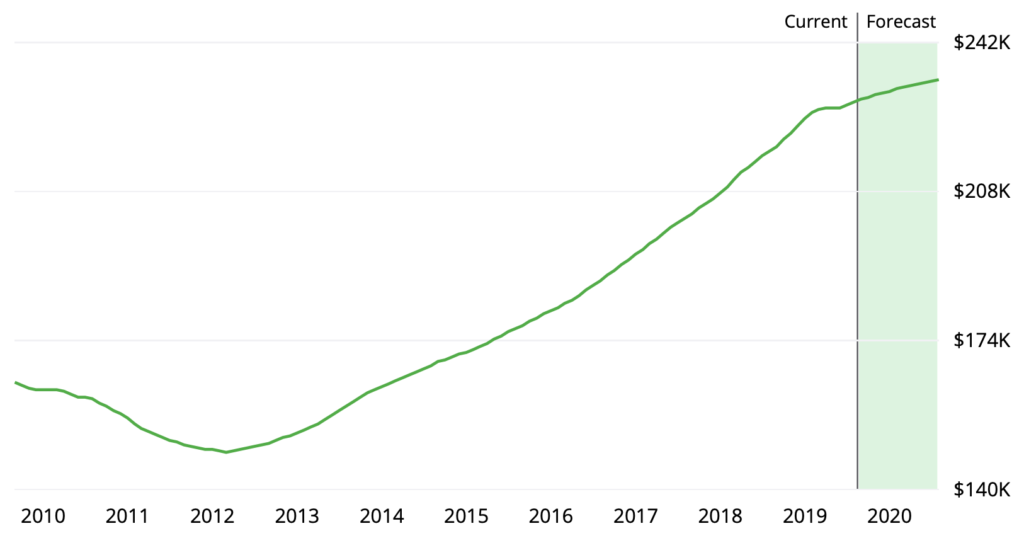 (California Prices)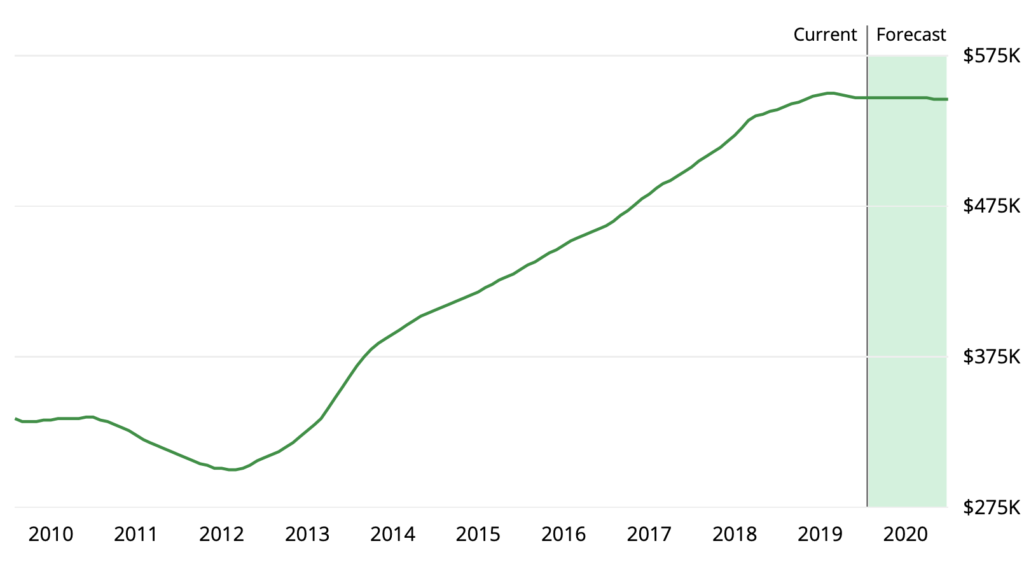 It's been a trend to see home values rise outpacing the wage growth, which created the tenacious affordability issues, especially in California. Zillow states that home values went up 5.2 percent over the past year and predict to rise 2.2 percent by next year – a much slower pace than what the market has experienced in recent years.
Most experts believe that mortgage rates have the most significant influence in purchases, but limited inventory and housing price cost to income ratio will be the continuing factor to resistance in home buying.
So is this a good thing?
On the positive side, from an economic standpoint, a slowdown in home prices and the market overall can be beneficial. Prices may still rise, but at a much slower pace – which allows the job wage to grow, affordability to become more available to more homebuyers, homes can move faster off the market, and inventory supply to match the high-demand. There's a chance for the market to "catch up" before anything drastic happens.
Housing markets all over the country are on their way to standing on a firm foundation if they're not there already. There may be some changes we see towards the end of the year that may hinder a purchase, and there are ways to turn this slowdown into profitable opportunity. Continue to research before making a purchase. The greatest shift is that more local real estate markets are expected to favor buyers over sellers. There is also an expectation for the mortgage rates to remain below the 4 percent average.
It's always a beneficial idea to invest in property. Talk to a local agent or real estate professional in the considered market. They are closest to the area and are first to sense what's to come in their local markets.
This article is intended to be accurate, but the information is not guaranteed. Please reach out to us directly if you have any specific real estate or mortgage questions or would like help from a local professional. The article was written by Sparkling Marketing, Inc. with information from resources like Zillow and HousingWire.